Non-Adhesive Tapes, Lacing Tapes & Cords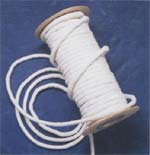 Roll over image to zoom in
Images are representative of product listed and may not be actual product.
1/4" SRR14 B-Stage Surge Rope 220°C, white, 1/4" diameter x 100 FT spool
Part: SURGE.SRR14
Manufacturer: PEI
Manufacturer #: SRR14
Fibertek B-Stage Surge Rope is preferred by industry leaders not only because of it's superior performance qualities, but is the choice of those who work with it everyday because of it's application flexibility, and equally important soft polyester finish that protects their hands from glass fibers and raw resins. Fibertek B-Stage Surge Rope provides greater protection for your work and your workers. Fibertek Surge Rope is constructed using a core of glass yarns which have been impregnated with a thermosetting modified polyester resin system rated at Class H Plus 220 degrees C. The B-Stage core is overbraided with a spun polyester fiber encapsulating the core. It is designed for surge ring and other structural applications requiring a rigid insulating and high mechanical strength material.
flexible
soft polyester finish makes product easy and safe to apply
high temperature
high mechanical strength
| | |
| --- | --- |
| Size-Diameter | 1/4" |
| Product Type | B-Stage Surge Rope |
| Colour | White |
| Temperature Class | Class R-220°C |
| Material | Polyester/Glass |
designed for surge ring and other structural applications requiring a rigid insulating and high mechanical strength material
America's oldest and most experienced industrial tape manufacturer serving the electrical equipment, telecommunications, electrical construction and packaging industries worldwide. Since our beginning in 1898, and formerly C.P.S. Industries - Industrial Division, Fibertek continues to be a world leader in supplying vital component products to these industries.
Electrowind is a supplier partner of Fibertek Inc. If you don't see the specific Fibertek Inc. product you are looking for on our website, request your quote with Electrowind today.
Packaging Description: 1/4" diameter x 100 FT spool
Product Weight: 7.00 FT
Product Size: 4.00 x 4.00 x 12.00
$223.00/SP USD
Availability: 0
Order Minimum Qty: 1

Lead time when 0 in stock: 53 days
Shipping Details
Free Shipping Offer
Online orders over $200*
FREE SHIPPING applies to this product if order is over $200. You can select FREE SHIPPING at checkout.
Existing customers contact Electrowind for account-specific pricing.
Calculator
| Cost (USD) | Method/Service |
| --- | --- |
For shipping inquiries, please contact customer service at: 1.800.265.8340
Purchase Terms & Return Policy
You might also be interested in
Disclaimer: Electrowind exercises care in producing, composing, editing and distributing the data on this website. Electrowind is not liable for damages resulting from use of any apparent misstatements and/or errors in the data presented on this website. To ensure compatibility with your application, always consult the datasheet before purchasing or using any product in your application.