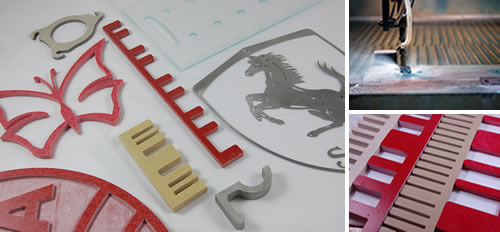 From extremely hard materials including granite and titanium to challenging materials including soft foams and rubbers, Electrowind Converting Solutions offers waterjet machining to cut custom parts to a wide range of thicknesses.
The waterjet process uses ultra-high pressure water to cut through materials. This process is precise and accurate and due to the absence of heat and blades, does not cause heat affected zones (HAZ), burning, discoloration, or warping. The absence of blades also reduces set up and maintenance costs, while the ability to cut with extreme accuracy and tight tolerances reduces the overall scrap left from the material.
Capabilities Overview: Waterjet Cutting
We can cost-effectively cut a range of simple and complex parts – including those for winding combs and core transformers - out of virtually any material.
Electrowind Converting Solutions:
Cuts, with waterjet tools, a range of commonly-used composites:

NEMA grade insulating laminates
Glass
Mica
Aluminum
Steel
Granite
Marble
Wood
Plexiglass
Kevlar
Acrylic
UHMW
Phenolic
Ballistic plating/armour
Stone
Ceramic
Titanium
Brass
Copper
Plastic
Iron
Rubber
Foam

Handles material sheets as large as 10' wide x 6' 6" length
Processes materials from 1/16" thick to 6" thick, depending on material
Nests parts to reduce scrap and reduced maintenance/tooling costs (and reducing overall cost of machining your parts!)
Operates with a standard precision tolerance is +/-.005"

Higher tolerance machining available on request

Cuts intricate and simple designs in challenging foams and rubbers for seals, gaskets and other parts
Can provide other converting services, including CNC machining, heat/cold forming and bending, sawing, milling, turning, laminating and more
Offers fast turnaround, low minimums and design/prototype support
Our cost-effective and flexible waterjet cutting services are available on Electrowind-supplied materials, materials we source for you, or materials you supply us.
Electrowind Converting Solutions is:                               
An ISO 9001:2015 certified company
A 3M Preferred Converter
A trusted converter for a wide variety of world-class manufacturers and supplier partners
Contact Electrowind Converting Solutions at 800.265.8340 to discuss your custom requirement or Request a Quote.
TYPICAL APPLICATIONS
Cutting simple and complex winding combs for transformer manufacturing with tight nesting for improved material usage
Cutting advanced composites without damaging their composition and fibers (e.g.,  by fraying or delaminating edges)
Cutting high or low volume runs of tough and lucrative metals including titanium, brass and steel
Cutting marble, slate, limestone, travertine, granite, ceramic and glass for counters, flooring, inlays, signage and artistic accents
Cutting and piercing delicate glass work, stained glass and ballistic glass
Cutting advanced materials for aerospace and thermal applications with no thermal damage to heat-sensitive materials
Cutting interior and exterior components such as headliners, carpets, acoustical materials, instrument, door panels, side moldings and castings for automotive and transit vehicles
Processing exotic and advanced materials like Kevlar, ballistic composites, super alloys, armour, carbides, titanium and more for military and defense applications
Cutting metal architecture, wine racks, art installations, stained glass windows, Christmas tree ornaments and a variety of artistic applications for architects and artists
Creating custom shims in composites and stainless steel
Cutting screens without burrs or warping