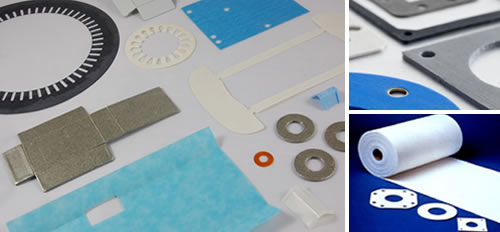 Electrowind Converting Solutions fabricates a range of custom parts for high temperature and automotive applications, using technologies such as die cutting, stamping, creasing, scoring, perforating and kiss-cutting your simple or complex parts.
Capabilities Overview: Die Cutting and Stamping
Gaskets, seals, shields, covers and insulators are some of the custom parts that we fabricate for our customers, using methods including die cutting and stamping.
Electrowind Converting Solutions:
Uses a variety of technologies – including die cutting, creasing, scoring, perforating and kiss-cutting - to create simple or complex parts for your application
Will provide prototyping support to help you test and perfect your parts prior to running your production order
Offers fast turnaround, low minimums, and large order capacity as required
Operates with a standard precision tolerance is +/-.0015"

Higher tolerances available on request
We can deliver on any project that requires the following:
Steel Rule: uses cost-effective die tools and is good for small or large volume production runs of simple or complex parts in a variety of materials and thicknesses
Compound: used for more complex parts requiring multiple steps in one pass
Rotary: cost-effective for simple or complex parts requiring large volume production runs and precision tolerances
Kiss Cutting: used when a liner is required behind the part for easy dispensing or packaging of parts. Improves your production efficiency as pulling a part off a larger release liner is easier than pulling a release liner that is equal in shape to the part
Creasing & Scoring: used to create indents that don't pierce through material so that parts can be easily bent or folded
CNC & Waterjet Machining: used for thick or rigid materials to cut simple or complex parts into hard materials. Also used to cost-effectively prototype your design prior to production or test various materials at a low cost before moving your part to production.
Electrowind Converting Solutions is:
An ISO 9001:2015 certified company
A 3M Preferred Converter
A trusted converter for a wide variety of world-class manufacturers and supplier partners
Our broad capabilities for and fast turnaround on die cutting and stamping parts are combined with our dedication to customer-service to offer you the best custom converting package available.
Contact Electrowind Converting Solutions at 800.265.8340 to discuss your custom requirement or Request a Quote.
TYPICAL APPLICATIONS
Cutting custom electrical insulating materials to fit electric motors, generators and transformers
Cutting electronic components including electrical conductors and insulators, filters and seals, vibration dampers, key pad overlays, hard disk components, heat dissipative materials, mobile phone and tablet components and flexible printed circuit boards
Cutting specialty materials for aerospace, medical and military devices and equipment including aircraft interior components, films for protecting interior surfaces, device and supplies packaging for medical devices, MRI/CT scanner insulation and thermal interface/management materials
Cutting automotive and transportation components including interior trim, insulation panels, roof liners, head rests, seals, filters, gaskets, decals, and seat liners
Gaskets, seals and washers made from a wide variety of materials for various industrial applications based on your requirements
Cutting packaging supplies including boxes, inserts and bags for food, medical devices, industrial supplies and retail goods
Kiss cutting release lined parts for easy handling
CNC and waterjet machining of complex parts made from hard composites and other materials