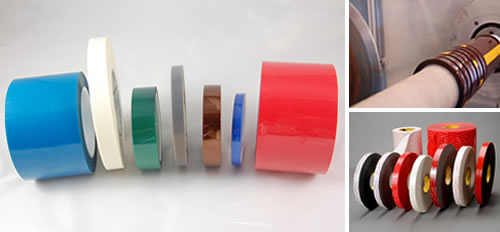 Electrowind Converting Solutions offers precision tape slitting and tape rewinding of adhesive tapes used in a variety of industry and professional applications.
We slit a range of tapes – including electrical, industrial, packaging and specialty tapes, and 3M tapes – to virtually any custom width in our facility.
Capabilities Overview: Tape Slitting 
We offer you the flexibility to have virtually any width of tape cut from narrow to wide, helping you to get your work done and save you money.
Electrowind Converting Solutions:
slits tape to required roll width or roll length (or both)
can slit master tape logs up to 80" wide and 30" diameter
will cut narrow-width tape to roll widths as narrow as .031" (1/32") wide (material dependent)
operates with a standard precision tolerance of +/-.0015"

Higher tolerance tape slitting available on request

delivers low minimum orders of 1 roll on many materials
offers large order capabilities to produce hundreds or thousands of rolls if required
can provide other converting such as die-cutting, stamping, silkscreen printing, laminating, creasing, bending, folding, sheeting, and more
offers fast turnaround, low minimums and design/prototype support
Our cost-effective and flexible tape slitting and rewinding services are available on Electrowind-supplied materials, materials we source for you, or materials you supply us.
Electrowind Converting Solutions is:
an ISO 9001:2015 certified company
a 3M Preferred Converter, and expert at cutting 3M tape
a trusted converter for a wide variety of world-class manufacturers and supplier partners
Contact Electrowind Converting Solutions at 800.265.8340 to discuss your custom requirement or Request a Quote.
TYPICAL APPLICATIONS
Slitting insulating and binding electrical tape to your required width for motor and transformer repair and manufacturing
Slitting bonding, joining, shielding and thermal management tape to your required width for electronics and devices
Slitting masking, finishing and painting tapes for automotive and transportation manufacturing
Slitting specialty, bonding and shielding tapes to your required width for aerospace, medical and defense/security applications
Slitting double-sided tape, transfer tape, release-liner backed tapes, foam tapes and other specialty tapes to your required width for a variety of industrial applications