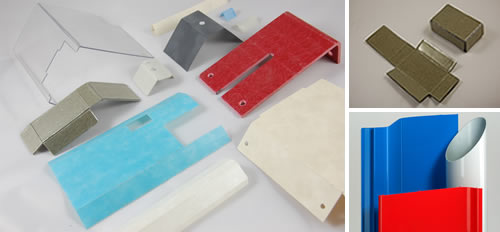 Electrowind Converting Solutions offers forming and bending of materials as a cost-effective and fast alternative to injection moulding your insulating, bonding, protective and conductive components.
We offer creasing and scoring of flexible insulator materials and specialty materials to create 3-dimensional parts out of flat/thin materials for your application. We also offer a heat forming and cold forming process on hard/rigid materials to form and bend your components to your exacting specification.
Commonly form and bend mica, Nomex®, pressboard, insulating papers, laminates, composites and plastics
Cost-effective and fast alternative to injection moulding
ISO 9001:2008 certified company
Complimentary converting services including custom slitting, die cutting and stamping, tape slitting, CNC and waterjet machining, sawing, milling, turning, laminating and more
Fast turnaround, low minimums and design/prototype support
3M Preferred Converter and trusted converter for a wide variety of world-class manufacturers and supplier partners
Contract Forming and Bending services available on Electrowind supplied materials, materials we source for you, and materials you supply to us
Our cost-effective forming and bending services are combined with our dedication to customer-service to offer you the best converting package available. We love a challenge so contact us about your requirement and we will work hard to offer a solution.
Contact Electrowind Converting Solutions at 800.265.8340 to discuss your custom requirement or Request a Quote.
TYPICAL APPLICATIONS
Mica and Nomex® boxes
Custom guarding for equipment and electronic devices
Structural supports for equipment and devices
Insulating materials for contoured surfaces