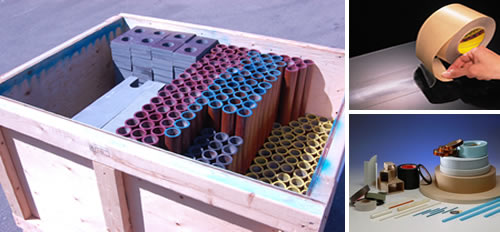 Electrowind Converting Solutions offers a variety of value-added finishing services for your parts and components.
If your employees use a common group of components on your production line, we can kit and assemble those products into a complete package that is easy to handle and will make your production line more efficient. If you have a unique component that requires assembly, our staff can assemble your parts into a finished component. If you have a large shipment that requires crating or a shipment that requires unique packaging; our staff can provide that unique packaging solution for you. If you require finishing services including printing, fastening, knitting, laminating, painting, engraving or silkscreening; we offer a solution.
Free or cost-effective kitting, assembly, packaging and finishing services
Handle unique requests all the time and are typically able to offer a solution
ISO 9001:2015 certified company
Complimentary converting services including custom slitting, die cutting and stamping, tape slitting, forming, bending, CNC and waterjet machining, sawing, milling, turning, laminating and more
Fast turnaround, low minimums and design/prototype support
3M Preferred Converter and trusted converter for a wide variety of world-class manufacturers and supplier partners
Contract converting services available on Electrowind supplied materials, materials we source for you, and materials you supply to us
Our cost-effective solutions are combined with our dedication to customer-service to offer you the best converting package available. We love a challenge so contact us about your requirement and we will work hard to offer a solution.
Contact Electrowind Converting Solutions at 800.265.8340 to discuss your custom requirement or Request a Quote.
TYPICAL APPLICATIONS
Machining and kitting insulating parts with various components for transformer manufacturers
Assembling machined interlocking parts with a bond agent to create a finished product
Crating 22,000 pounds of insulators and washers to ship overseas
Painting the ends of machined components for identifying purposes
Printing logos on flexible roll material
Laminating adhesive strips on an insulating material for easy adhesion