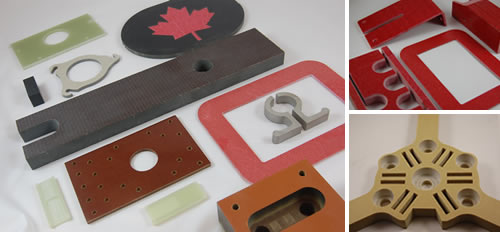 Electrowind Converting Solutions machines flexible and hard materials with precision and accuracy using CNC machining, sawing, milling, turning, routering, and drilling centres.
From drawing to finished component, we offer the experience and capabilities to machine your insulator materials and components to your exacting requirements on low- or high-volume production orders.
Capabilities Overview: CNC Machining, Sawing, Milling and Turning
Our cost-effective CNC machining solutions are available for simple jobs like cutting a sheet in half or more complex jobs requiring interlocking parts, bevels or edge profiles. Our broad capabilities allow us to produce, for you, almost any shape from plastic, wood, foam and composite to meet your requirements.
Electrowind Converting Solutions:
Commonly cuts laminate, NEMA grade insulating laminates, plastic, wood, foam and plexiglass.

We do not process metal CNC parts with our CNC machine at this time.

Machines complex shapes with holes, edges, bevels and challenging profiles   
Handles and processes large sheets into parts
Uses advanced technology to set up quickly and run high speed production for large orders
Operates with a standard precision tolerance of +/-.015"

Higher tolerance machining available on request

Cuts intricate and simple designs in challenging foams and other specialty materials
Can provide other converting services such as waterjet machining, heat/cold forming and bending, laminating and more
Provides

 contract CNC machining

 services for Electrowind-supplied materials, materials we source for you, and materials you supply to us
Offers fast turnaround, low minimums and design/prototype support
Electrowind Converting Solutions is:
An ISO 9001:2008 certified company
A 3M Preferred Converter
A trusted converter for a wide variety of world-class manufacturers and supplier partners
We can produce most any shape and profile of part that you can imagine out of non-metal materials. Our cost-effective machining services are combined with our dedication to customer-service to offer you the best custom converting package available on the market today.
Contact Electrowind Converting Solutions at 800.265.8340 to discuss your custom requirement or Request a Quote.
TYPICAL APPLICATIONS
Cutting pole collars, lead cleats, bus bar supports, structural supports and other insulators and structural components for electric motors, transformers and power equipment and devices
Cutting simple and complex winding combs for transformer manufacturing with tight nesting for improved material usage
Cutting, shaping and drilling plastic and composite parts used in aircraft cabins, cockpits and air frames
Cutting, shaping and sculpting plastic and composite components for medical devices, equipment and orthotics
Cutting and shaping plastics and low-weight composites (metal alternatives) into complex parts for transit vehicles and automotive manufacturing including transit interiors
Providing solutions for commercial and/or residential use in the construction industry for producing to-scale models of projects, doors, cabinets, mouldings and more
Creating insulating and shielding components for computers, laptops, mobile phones, tablets, hard drives, and other electronic devices
Cutting and shaping components for consumer products including appliances, toys, furniture, office products, musical instruments, sporting apparel and housewares