July 13, 2021 | Around the Industry | Adam Tedesco
OUR NEW WEBSITE LAUNCH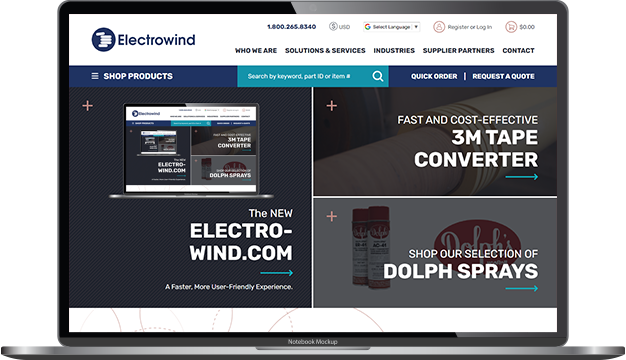 We are very excited to announce the launch of our newly designed website.
After a lot of hard work, we have officially launched our new site on August 10th, 2021. Our goal with the new website is to make it faster, easier to navigate and a more user-friendly experience for visitors.
As a leading supplier and fabricating partner to the North American electric motor, transformer and electrical markets, it's important for our website to help you find and buy the materials you need quickly. Whether you're a purchaser, engineer, production line worker or owner, our new site will make sourcing and buying the products you need easier and faster than ever.
Our current and new customers will find quick access to product specs, datasheets, SDS and other engineering data available at your fingertips. You will also be able to learn more about how Electrowind can improve your business due to our highly knowledgeable staff, access to major product lines, affordable shipping options, and large stocking inventories across 3 locations servicing Canada and the USA.
The new site will also make it faster to navigate and place orders, even offering a quick order option for customers that order often and know exactly what they need.
We will continue to improve our products, services and the way you buy materials to make Electrowind your best source for the electrical insulating and conductive materials and fabricated parts that you need.
We would like to thank our outstanding staff at Electrowind who helped to make this site what it is, and our web development partner, RKD who developed it.
For any questions, feedback or comments, please email us.