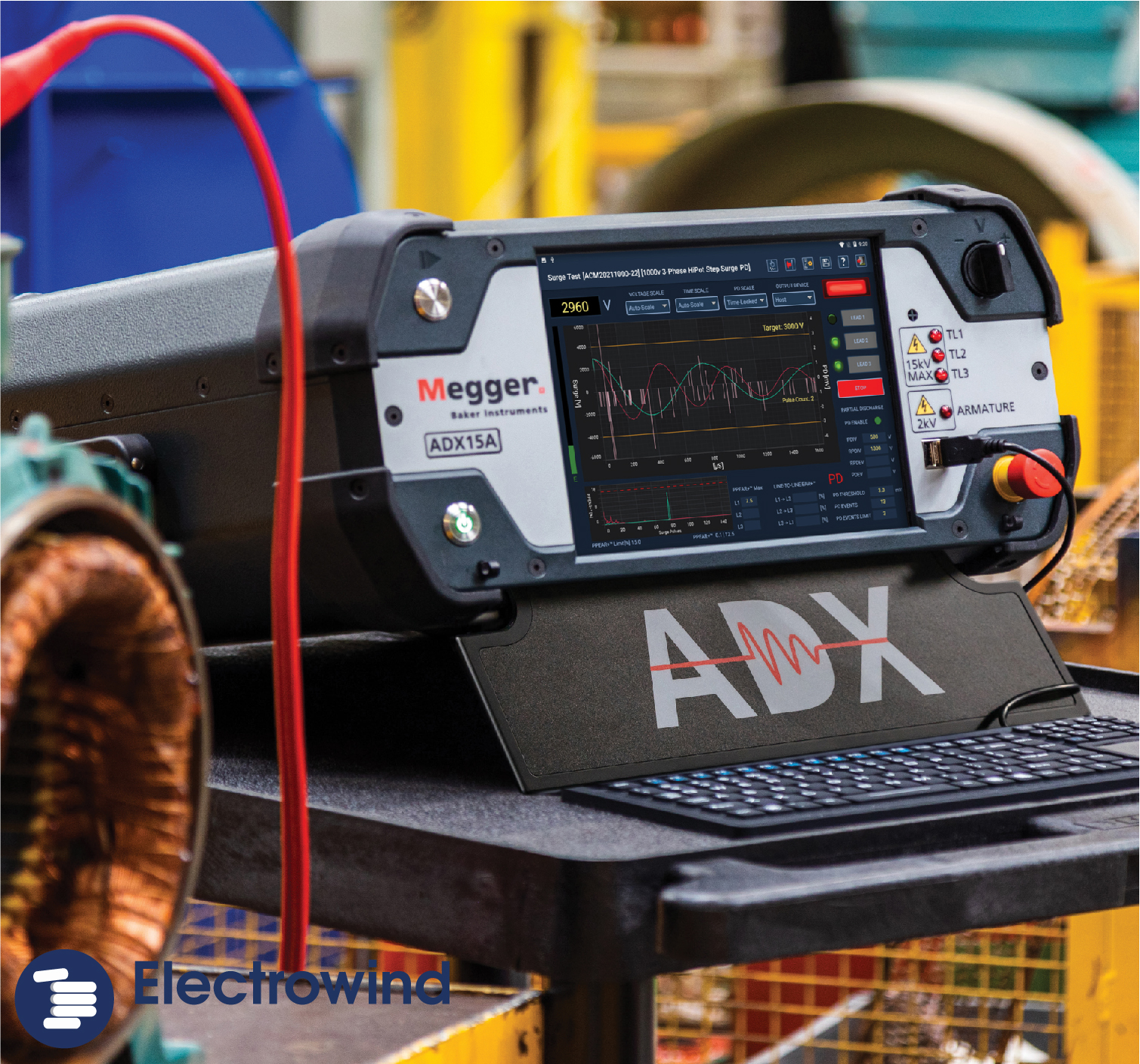 Roll over image to zoom in
Images are representative of product listed and may not be actual product.
Megger Baker ADX Automated Static Motor Analyzer
Part: ADX
Manufacturer: Megger
The Megger Baker ADX is an innovative and transformational lead forward for motor testing in today's demanding workplaces. Developed using Linus on an Android operating system, the ADX software is easily updated via a LAN or Wi-Fi connection. The large 10.4" touchscreen is tough and daylight viewable for field testing.
A fundamental requirement of hard-working test equipment is having the optimal test lead set. The ADX has IEC61010 safety compliant, combined high voltage/low voltage detachable Kelvin test leads, rated at 16kV with a large jaw opening. The leads are available individually or in sets, so damaged leads can be replaced in the field without sending the equipment away-saving time and money.
An internal battery backup allows the ADX to be moved between assets without having to shut down and reboot for each new location.
The ADX family includes models designed to perform tests at voltages up to 15kV. The five main options include 4kv, 6kV, 12kV, 15kv and 15kV-A (Armature). Couple the ADX with a PPX to increase test voltages up to 40 kv for testing high voltage assets.
Available tests include: Winding Resistance, Inductance, Capacitance, Insulation Resistance (IR), Dielectric Absorption (DA), Polarization Index (PI), DC HiPot (standard), DC HiPot (step-voltage), DC HiPot (continuous ramped), Surge Analysis with EAR+, Partial Discharge on Surge.
Asset-centric approach promotes turnkey testing for operators
separating asset from installation provides greater insigh into asset service needs and issues
PowerDB dashboard secure cloud-based analysis software
choice of Manual, Automatic, or Sequence testing
screen-level context sensitive help
adaptable search capability
asset managment tools
configurable route-based testing
Pulse-to-Pulse and Line-to-Line Error Area Ratio analysis
import existing databases from AWA and DX
Android operating system
wireless networking capability for printing reports and updating software
HDMI port for duplicating screens
Wi-Fi and Bluetooth enable
electric motors and generators
DC motor testing
high voltage motor testing
partial discharge testing
low impedance testing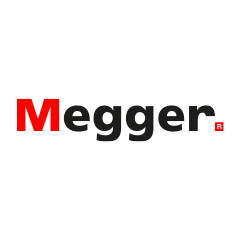 Megger and Megger Baker designs and manufactures electrical test equipment. Megger products help you install, improve efficiency, reduce cost and extend the life of your or your customers' electrical assets.
Established in the late 1800s, the company has been designing and making test and measurement instruments that perform electrical measurements for preventative maintenance, troubleshooting and commissioning for decades. Megger products have supported customers all over the world to improve their facilities' efficiency, reduce costs, extend the life of apparatus and through trending and analysis, anticipate equipment failure and future performance. It now has local offices in many locations with technical support teams and distributors all over the world. Manufacturing plants are located in Germany, Sweden, the UK, and USA.
Electrowind is a supplier partner of Megger Electrical Test Equipment. If you don't see the specific Megger product you are looking for on our website, request your quote from Electrowind today.
Packaging Description: EACH
Product Weight: 51.00 EA
Product Size: 23.00 x 18.00 x 9.00
Availability: 0
Order Minimum Qty: 1

Lead time when 0 in stock: N/A
Shipping Details
This product is oversized and/or not available for shipping via courier. Please contact Electrowind for shipping rates or we will contact you if shipping rates aren't available for this product and you place an order for this product on our website.
For shipping inquiries, please contact customer service at: 1.800.265.8340
Purchase Terms & Return Policy
You might also be interested in
Disclaimer: Electrowind exercises care in producing, composing, editing and distributing the data on this website. Electrowind is not liable for damages resulting from use of any apparent misstatements and/or errors in the data presented on this website. To ensure compatibility with your application, always consult the datasheet before purchasing or using any product in your application.